" SIGGRAPH 2006 Conference

"structure

Soap bubbles tossed in the air are recorded on video with the camera. The position and size of soap bubbles are detected by the image data processing. The image can be projected only onto soap bubbles by projecting it to the position of them from the projector under the camera. When soap bubbles explode,the explosion is detected by the image data processing, and the sound effects happens. At the same time, by switching the projected image, you can see the change in the beautiful light projected to the smoke.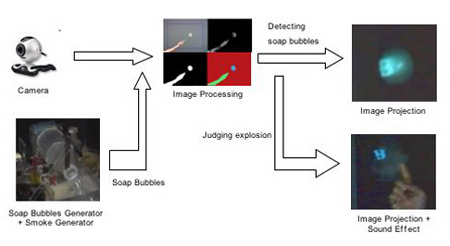 Soap Bubbles Generater

This machine generates some soap bubbles every about 15 seconds by spraying soap film with smoke generated by heating "clear fog fluid".